5 Easy Ways to Make Your House Party Memorable
Ten easy tips to make your next celebration one to remember.
Your house party is an event that will get people talking for weeks to come. It's an amazing chance to show off your personality and make new memories with your friends. 
Unfortunately, planning a house party can also be a stressful experience for many aspiring party hosts. From gathering supplies to thinking of a theme for your event, organizing a shindig is often more complex than it seems. As such, many party hosts often get caught up in the nitty-gritty details and forget what hosting a house party is really all about: having a memorable time with your friends! 
That's why we created this AUXGOD party guide – to make your party planning much easier and ensure your guests have a great time! In this blog, we'll go over the five easy ways you can make your party more fun and memorable for your friends, family, and guests! Let's get started.
1) Invite the Right People
Inviting the right people is a crucial part of hosting a successful house party. But it can also be one of the most time-consuming and challenging parts.
To avoid a boring event, you need to invite guests who are appropriate for your party. What do we mean by "appropriate," you ask? Not every house party guest list is created equal. Different types of events require different considerations with who you invite. 
When creating your house party guest list, start by creating a record of all your friends that you could possibly invite. Next, you need to look at the list and start figuring out which guests will be the best fit for your shindig. Take into account what type of party you are hosting and what type of people would enjoy it. 
For example, if you are hosting an intimate dinner party, then it would be inappropriate to invite children or large groups of friends. On the other hand, if you're hosting a loud summer pool party, then you might not want to invite the quiet, introverted friends from your weekly book club.
The better you become at curating your guest list towards your specific party, the more fun everyone will have, and the more memorable your event will become!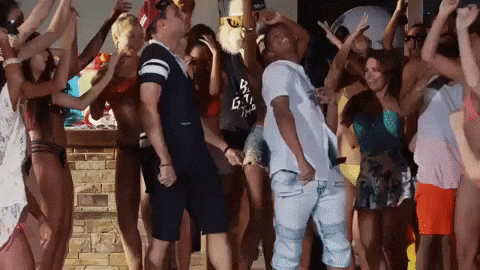 2) Create a Captivating Theme and Atmosphere
Different types of parties have different requirements for their atmosphere and theme. For example, a housewarming party will have an upbeat theme with lights and music to match, while a more formal cocktail party might include some quieter jazz music playing in the background. 
No matter what you have as your theme, making your house party memorable is all about diving into it headfirst and making it as engaging as possible. From your food to your drinks, costumes, and decorations, putting effort into your theme will pay huge dividends towards making your event one to remember. 
Did you know we wrote an entire AUXGOD guide all about
finding a killer theme for your party?
Click here to read How to Pick a Party Theme now!
3) Optimize Your Food Menu
Food is the soul of a party. It is the element that brings people together to celebrate and have a good time. So when it comes to food, you want your guests to have a good time and enjoy themselves. In order to do this, there are three things you must do. 
First, you need food that is tasty, filling, and pairs well with alcohol. Simply put, if your guests don't enjoy the food at your party, your event will be memorable for all of the wrong reasons. As such, you need to ensure that your food is not only tasty and satisfying but also that it goes well with all of the drinks you'll be serving at your shindig. 
If you're hosting a party for more than a handful of people, we suggest offering a buffet-style setup for your party. That way, you can cut down on the food prep and subsequent dish cleaning you'll have to do post-event!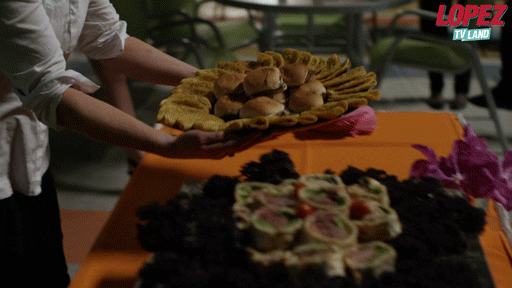 Next, you also need a variety of dishes so that everyone at the party can find something they like. Everyone has a slightly different palate, so make sure your party food menu is nice and diverse. When planning your food menu, it's also crucial to take a look at your guest list and note any allergies or dietary restrictions they may have. If one of your guests can't eat certain foods, make sure you include a few allergy/restriction-friendly options on your menu!
Finally, you should plan your menu so that it complements the vibe of your event. The theme of your party is about more than decorations and costumes – it's reflected in every aspect of the event, and that includes your food! For example, if you're hosting a party with a futuristic or sci-fi theme, take the time to make your food reflect the vibe. This can mean anything from experimenting with food coloring to creating unique dishes from the future!
Looking for more house party food tips?
Click here to read our Ultimate House Party Food Guide!
4) Get Creative with Your Drinks
Drinks are an essential part of any house party. They help people loosen up and get in the mood to celebrate. But not every type of drink is appropriate for every occasion. Here's a quick list of a few party beverage staples and when you should serve them:

Wine, Champagne, and Sparkling Wine:

Best served at dinner parties or formal celebrations like anniversaries, weddings, or the New Year.
Beer and Lager:

Relatively cheap and moderate in their alcohol concentration, these drinks are ideal for medium-sized, informal gatherings.
Cocktails:

Mixed cocktails like Manhattans, Mojitos, and Cosmopolitans are usually served at semi-formal cocktail parties or at small gatherings where it's practical to make custom drinks for each guest.
Hard Liquor and Spirits:

For when you want to forget your name and date of birth, and wake up the next morning wondering how in the world you ended up on the other side of town.
5) Redesign Your Home
Everyone knows that decorations bring your party theme to life. But many party hosts seem to forget that they can decorate the exterior of their home as well! If you want to truly make your party one to remember, make your house part of the main attraction!
How can you do this, you ask? The first and simplest thing you can do is to decorate the exterior of your home for your house party theme. This will add to your celebration's atmosphere and help your guests get into the party mood before they even step into your home.
Next, take the time to rearrange some of the furniture in your house to make it more party-friendly. Just because your furniture setup is perfect for you doesn't mean it will be comfortable for a dozen party guests. You don't have to renovate your home, but try to ensure that there's enough space at your party for eating, sitting, and dancing. If you can make your friends comfortable at your event, your party will immediately become more fun for everyone, and thus more memorable as well!
Bonus Tip: Bring Out the Party Games!
Let's face it: no shindig is complete without some good old party games. Having interactive entertainment at your party gives your guests a chance to get on their feet, move around, and make some fun memories at your event. 
Of course, there are the old-school, cliche party games like beer pong and charades. Unfortunately, all of your guests have already played these games a hundred times before, so they're unlikely to create any new memories at your event. If you want to make your house party one to remember, you need a hot, new game that's guaranteed to bring your celebration to life.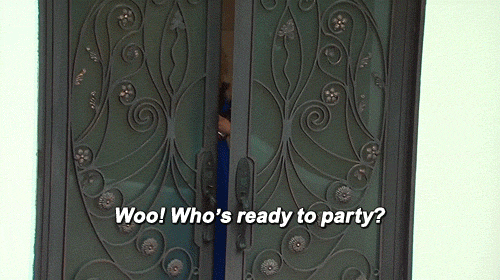 Introducing: AUXGOD! AUXGOD is this year's hottest party game that combines improv, trivia, and karaoke into the perfect activity for your upcoming event. Teams face off to pick the best songs and decide who has the best music taste once and for all! 
If you want to make some new memories with friends and family, there's no better way than with AUXGOD. Whether you're a Soca & Dancehall lover or Hip Hop & RnB addict, we have the game for you! Every AUXGOD card is beautifully designed and reinforced with a gloss coating and linen thread to withstand even the rowdiest of celebrations. So whether you're hosting an intimate get-together with your closest friends or throwing the party of the century, AUXGOD has got you covered!
Throw a shindig everyone will remember and become a party music hero. Browse our collection of game decks and join a community of passionate fans who can't get enough of this epic new party game!
Click here to visit our shop and get started with AUXGOD now!
---