World's Biggest Party Scenes
Ever since human beings discovered music and alcohol (and how to combine them to have a good time), they've been throwing shindigs and hosting celebrations. From medieval balls to modern raves, people have been getting their party on for hundreds of years! 
We even wrote a previous AUXGOD blog about the history of party
games throughout the decades!
Click here to read about Party Game History: Shindig Activities from 1920-2020
Today, parties are a key part of people's lives all around the world. These shindigs aren't just about drinking and dancing. They represent everything from culture and history to religion and politics. Although most parties are usually thrown in recognition of special events like the New Year, birthdays, anniversaries, some celebrations are thrown just for fun! 
Parties vary between different cultures depending on their traditions and events that happen in their country. If you're looking for some inspiration for your next party or you're planning your next travel adventure, here are some of the best and biggest party scenes from around the world you might want to check out:
Coachella – California, USA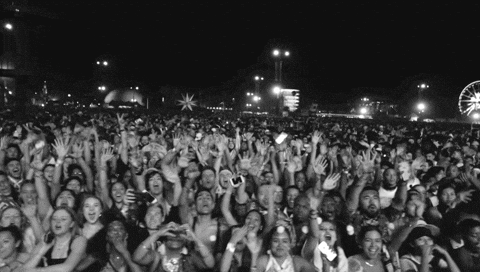 You can't make a list of notable parties from around the world without mentioning Coachella. This famous California music festival started in 1999 (although the initial inspiration for the festival happened in 1993) and in the past two decades has become one of the most popular parties on the planet. 
Every year, hundreds of thousands of music lovers and party addicts gather at the Empire Polo Club in Indio, California, to hear performances from some of the hottest artists of the year. From rock and pop to EDM, this three-day shindig offers entertainment for nearly every taste of music. 
With impressive performer lineups featuring personalities like Beyoncé, Ariana Grande, Eminem, Drake, and AC/DC, it's no wonder why young people from around the world make the yearly pilgrimage to California for this festival. If you're a party freak, visiting Coachella is a must!
Holi Celebration Festival – India

There are a lot of parties and festivals around the world that carry a rich history. But few celebrations have been around for over 2000 years. India's Holi festival originated as a Hindu celebration of the coming spring and victory over evil and was first mentioned in historical texts and poetry in the year 4CE. That means this seasonal festival has been happening every year for over 60 generations! Today, the Holi tradition has spread, and the festival continues to be celebrated all around the world. 
What happens at Holi, you ask? Simply put, it is a festival of colours. Each year, millions of people take to the streets to smear each other with coloured water and paint powder. In essence, it's a massive-scale paint fight. Young and old, rich and poor, all spend the day dousing each other with bright and vivid paints to celebrate the end of winter. 
If you're a person who wants a party with rich history and unique culture, Holi is the festival for you. In fact, there's likely a Holi celebration happening in your local area this spring, so keep your eyes peeled for a chance to participate!
Oktoberfest – Munich, Germany
Do you know what's better than having a beer at a party? Having a party that's all about beer! If you're a lager enthusiast, the 18-day-long Oktoberfest in Munich, Germany, is the celebration for you. This Bavarian tradition originated 200 years ago as a festival to help local farmers make some extra income. Over the next two centuries, Oktoberfest became a world-famous festival that attracts tourists from all around the world. 
Every year, millions of people gather at the Oktoberfest fairgrounds to drink virtually limitless amounts of beer, play games, and celebrate with friends at the world's biggest folk festival. Although this tradition started in Germany, Oktoberfest has become an annual festival in the major cities of nearly every country. If you have the chance to attend a local Oktoberfest in your area or make a trip to the real one in Munich, we strongly suggest you check it out!
Rio Carnival – Rio de Janeiro, Brazil
Often called "The biggest show on Earth (O maior show da Terra)," the Rio Carnival is the world's largest festival. Spanning several days and attracting over two million people, this celebration has truly earned its place on this list!
Originating in 1723 as a cultural and religious festival held before Lent, the Rio Carnival of today includes parade floats, music, dancing, entertainment, and much more! Heavily influenced by African culture, the Rio Carnival is all about keeping traditions alive and getting away from the modern Western cultural influence. In other words, it's a way for people to return to their roots and remember where they came from by celebrating the way their ancestors used to! 
From beach parties to music performances, the Rio Carnival is an amazing celebration hosted in one of the world's most beautiful and culturally-rich cities!
Caribana Toronto – Toronto, Canada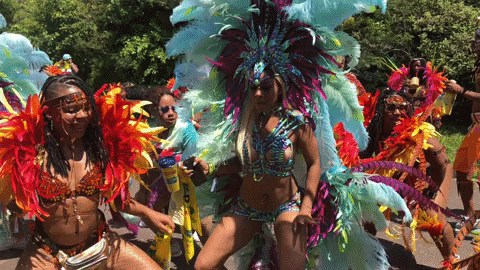 Since AUXGOD originated and is based in Toronto, it's only fair that we give a small shoutout to our own local shindig: Caribana Toronto. Influenced by our city's rich Caribbean culture, Caribana (officially called the Toronto Caribbean Carnival) is all about celebrating the Caribbean culture that makes our city so vibrant. 
Started in 1967 by Caribbean immigrants, Caribana has grown over the decades to become one of the nation's largest festivals. Attracting over a million annual visitors from both Canada and the USA, this month-long celebration has earned its place in the hearts of its many attendees. 
Although Caribana is an all-around special event, there's one thing that makes it stand out: the music. Before visitors get anywhere near the carnival grounds, they can hear the booming Soca music echoing in the streets! 
At AUXGOD, we love Soca. If you share our passion, we have the party game for you! AUXGOD is this summer's newest and hottest music card game that's taking over the streets of Toronto and beyond! In this game, teams of players face off to decide who has the best playlist and music taste. AUXGOD combines improv, trivia, karaoke, and a dose of competition to create a party game that your friends will want to play again and again! 
Our card decks include music genres ranging from Hip-Hop to Country, and of course, Soca and Dancehall! If you're a party guest or host who wants to make some memories at your next shindig, you need a deck of AUXGOD game cards!
Click here to visit our shop and get started now!
---